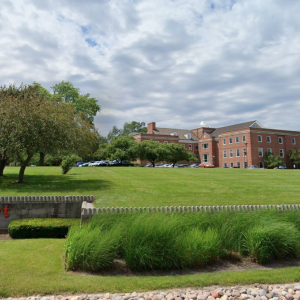 We had the opportunity to visit Mooseheart for Founders day weekend October 22--24.  It is set aside annually to honor the Founder of Mooseheart the Honorable James J. Davis.  Members of the Ohio State Moose Association and the Michigan Moose Association gather together each year for a weekend of fun activities and visits with the children of Mooseheart. This year was not different. 
A pizza party with the children occurs on Friday night followed by activities in the field house.  Saturday is started at the House of God with presentations of letter jackets by the OSMA and senior from the Michigan Association.  Following the presentations, the Founders Day a reading is conducted by 6 of the seniors.  The elementary choir entertained with several music selections.  After the service at the House of God, a lunch was held for all in the field house.  The afternoon activities included a visit by Ross Chastin, the Moose sponsored NASCAR driver, tours of the grounds including the student homes, a reverse Trick or Treat, a haunted house and campus wide cookout.  Sunday concluded the weekend events with church services at the House of God and the annual Blueberry Pancake Breakfast in the field house.
On Friday evening Greg and I presented our Sunshine Child Pauline with a beautiful backpack stuffed with goodies and a couple of gift cards donated by our members.  For the first time in memory the adults were able to interact with the children on the basketball court.  Of course, Greg was the first one out there to take on the basketball team. 
It was a great weekend with great memories.  It is hoped that more of our members can attend in the future. 
Gary and Greg Muter