Bowling For Mooseheart by WOTM Jan 22nd!
Members and Qualified Guests
Members and Qualified Guests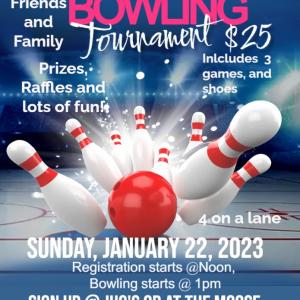 Women of the Moose is hosting a 'Friends and Family' Bowling Tournament. Sign up your teams of four (men, women, or mixed). This tournament is open to the public! The cost is $25 per person and includes three games and bowling shoes.
There will be raffles throughout the afternoon and various prizes for participants. Food will be available for purchase at the bowling alley. Registration forms will be posted on the Sports Board in the lodge, next to the pool table (and at Jugg's Bowling Center). Please pay for your entire team when you register. Games start at 1 pm.
A portion of the proceeds will go directly to the Physical and Occupational Therapy program at Mooseheart.
If you have any questions please contact Kim Hetherington (419-944-4163) or Marsha Warrington (419-704-7954).
Event Organizer
Kim Hetherington
Marsha Warrington