200 Club Reverse Raffle by the WOTM Feb. 12th!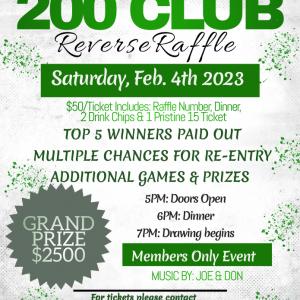 $2500 Grand Prize! 
Tickets Only $50. Ticket includes dinner, 2 drink chips, raffle number, dinner, and 1 pristine 15 ticket!
Top 5 winners paid out and multiple chances for re-entry! Plus many more games, prizes & 50/50's! Plus, LIVE MUSIC by Joe & Don!
Doors Open @ 5 pm, dinner served @ 6 pm, drawings begin @ 7 pm.
For tickets please contact:
Lindsey Dake 419-705-6518 or Brandy Tyburski 419-356-9965
Come join this great event! The Saucy Slamwich Moose Cafe will also be open!