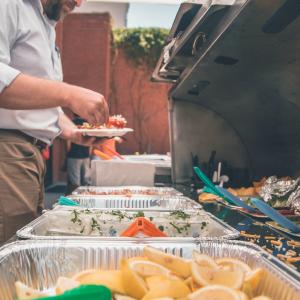 Greetings fellow Moose Brothers and Sisters!

SHAMY'S CATERING is so very excited to begin serving dinners on Tuesdays, Wednesdays, 
Thursdays, Saturdays, and Sundays beginning July 6, 2021! 
I have been in the foodservice industry for over 35 years.  I worked for Bob Evans Farms for 20 years and most recently was the Director of Student Nutrition and Business Affairs for Sylvania Schools for the past eight years.  I'm a graduate of Owens Community College, where I also taught for 9 years.  I have a Bachelors's Degree in Education from OSU and a Masters's of Arts in Education from the Univ. of Findlay.  More important than all of that, I have been married to my wife Jenny for 24 years and a proud father of two girls, Madeline, 14, and Mallory, 11. 
The #1 focus of Shamy's at the Moose will be serving distinctive cuisine with the family hospitality.  When you dine with us, we want you to feel like you're coming home for a good meal.  Our meal service at the Moose will be rolled out in two phases: 
Phase 1—July 6 through Sept. 13—Shamy's will begin with a 'test menu' including Appetizers, Shamwiches, Salads, Dinners, and Homemade Desserts.  On day one we will begin to survey our fellow Moose family members.  We will begin immediately gathering information on what you want for dinner...not what we want to serve!  THIS FEEDBACK IS VERY IMPORTANT TO US and will guide us in the development of the next menu.  
Phase 2—Sept. 14 through Nov. 2—We will roll out the next menu reflecting the feedback we gathered from the Moose Family.  Although it will be impossible to accommodate the requests of everyone, be assured that the most asked for/desired menu options will be reflected in the new menu.  The Phase 2 menu will begin the important process of two-way communication between Shamy's and the Moose Family.  We will always listen to you and continually strive 
to better meet your culinary needs and service expectations. 
In closing, I have two important requests of the Moose Brothers and Sisters: 
1. Please fill out surveys!  Feedback, positive and constructive, will be crucial to improving on food quality, service, and future menu variety. 
2. Be patient with us.  We will make every effort to deliver only the highest quality food with a smile daily.  When we fall short, and occasionally we will be assured we will make it right and will learn from our mistakes. 
I am looking forward to getting to know all of you.  Please take a minute to say hello when you see me roaming the lodge!! 
In your service, 
Joseph Shamy, M.A.Ed. 
Executive Member/Owner 
Shamy's Catering LLC 
4154 Ranchers Circle 
Maumee, OH  43537 
419-276-9959 
Joseph.shamy@shamyscatering.com